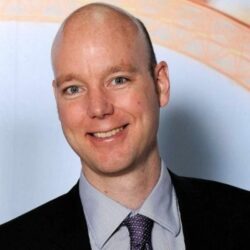 Ben Fawcett
Head of Solar EDF Renewables UK
Ben Fawcett has more than 20 years' experience in the UK & European energy industry, of which 17 years is within the EDF Group.
Ben joined EDF in 2004. He initially worked on the optimisation and origination of gas generation and storage assets, before moving into the M&A team where he focused on securing external investment into the Hinkley Point C project.
Since 2015 Ben has been part of EDF Renewables, initially as Head of Strategy & Analysis where he made a substantial contribution to expanding the business beyond its historical focus on onshore wind. Ben helped to secure Board approval to enter the Solar and Irish markets, and also lead the acquisition of Pivot Power and a major divestment in the onshore wind business, securing £701m for reinvestment.
Moving across to his current role in 2019 as Head of Solar, Ben is responsible for a significant pipeline of solar projects across the UK, spanning both grid-scale 50MW developments as well as large NSIP's. In the course of 2023, EDF Renewables UK is bringing three solar farms online with a number of other projects in planning. A decision on EDF Renewables' first application for a Development Consent Order (DCO), for the 500MW Longfield Solar Farm, is expected later this year.
Due to his experience within the industry, Ben was asked to join the government's Solar Taskforce, established in May 2023 to drive forward the actions needed by government and industry to meet the solar deployment ambition of 70 gigawatts by 2035.
Ben is a Director of Pivot Power and Longfield Solar, and was an elected Pension Trustee of the EDF Energy Penson Scheme from 2016-2021.
Ben has a degree from University of York in Economics & Politics and an MBA from the Kellogg-WHU Executive MBA Program.
<< Back